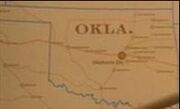 Oklahoma was a region within the North American continent of Earth. In the 20th century, Oklahoma was a part of the United States of America.
In an alternate timeline in which Nazi Germany had invaded the United States, Oklahoma was as of 1944 in a region of the country still controlled by American forces. (ENT: "Storm Front")
The capitol of Oklahoma was Oklahoma City.
In 2151, a Klingon courier named Klaang crash-landed near Broken Bow, Oklahoma, which was a much smaller community. (ENT: "Broken Bow", "Storm Front")
External links