Ad blocker interference detected!
Wikia is a free-to-use site that makes money from advertising. We have a modified experience for viewers using ad blockers

Wikia is not accessible if you've made further modifications. Remove the custom ad blocker rule(s) and the page will load as expected.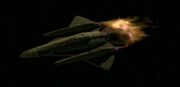 A Nygean prison ship was a starship operated by the Nygean Detention Force to transport prisoners from one planet to another, sometimes for execution.
Nygean ships were capable of warp 8.2.
In 2377, a prison ship under the command of warden Yediq suffered a reactor breach. Luckily, the crew was rescued by the USS Voyager, which was nearby when they issued a distress call. Its (surviving) complement was comprised of three Nygean guards, three Nygean prisoners, and five Benkaran prisoners. (VOY: "Repentance")