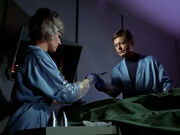 A nurse was an independent health care practitioner who, along with a doctor, was responsible for an individual's health and well-being. Most nurses wore a uniform, whether one for nursing in general or, if they belonged to a military (such as the US Army (Faith Garland) or Starfleet (Christine Chapel)), the appropriate divisional and rank attire and insignia.
Nurses also may have held the position of chief medical officer on a starship if no doctor was available. In 2269, after assuming command of USS Enterprise from a euphoric Montgomery Scott, Uhura granted Chapel this position until further notice, replacing McCoy, who was part of the missing away team on the second planet of the Taurean system. (TAS: "The Lorelei Signal")
Some nurses specialized in certain fields, as doctors did. Beck, for example, was an obstetrics specialist. (TNG: "Lessons")
Dr. Leonard McCoy found nurses easier to work with than other doctors, remarking that another doctor would "argue every little diagnosis with me." (Star Trek: The Motion Picture)
In 2293, Commander Pavel Chekov "drafted" three journalists as nurses to help care for the injured El-Aurian refugees in the unstaffed sickbay of the USS Enterprise-B. (Star Trek Generations)
In 2369, the Bajoran farmer Mullibok called Kira Nerys his nurse when she cared for him after he was shot by a Bajoran phaser. (DS9: "Progress")
When Julian Bashir asked Yeto to help him treat Quark's injuries in 2370, he initially balked, saying he was not Bashir's nurse. (DS9: "Invasive Procedures")
In 2375, according to The Doctor, several injuries that B'Elanna Torres had sustained and healed from without seeking treatment in sickbay looked as though they had been treated by someone working at the level of a first year nursing student. (VOY: "Extreme Risk")
External link
Edit
Ad blocker interference detected!
Wikia is a free-to-use site that makes money from advertising. We have a modified experience for viewers using ad blockers

Wikia is not accessible if you've made further modifications. Remove the custom ad blocker rule(s) and the page will load as expected.