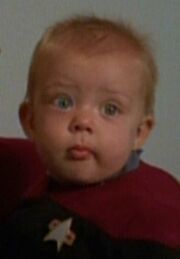 Nolan Donahue and his brother Brett portrayed the infant Q Junior in the Star Trek: Voyager third season episode "The Q and the Grey". They received no credit for their appearance and were identified by the name tag of the jumpsuit which was sold off on the 40 Years of Star Trek: The Collection. [1]
According to the call sheet, they filmed their scene on Monday 16 September 1996 on Paramount Stage 8 and are listed as "2 Babies (Donahue Twins)" on the call sheet.
Ad blocker interference detected!
Wikia is a free-to-use site that makes money from advertising. We have a modified experience for viewers using ad blockers

Wikia is not accessible if you've made further modifications. Remove the custom ad blocker rule(s) and the page will load as expected.