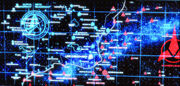 No'Mat, also known as Omicron Leonis, was a star in Klingon space, in the Beta Quadrant.
In 2256, its' location was labeled on the star chart "Alpha/Beta Quadrant Overview" in the ready room aboard the USS Discovery. (DIS: "Magic to Make the Sanest Man Go Mad", "The War Without, The War Within")
This location was only mentioned in writing.
See also
Edit
External link
Edit