Ad blocker interference detected!
Wikia is a free-to-use site that makes money from advertising. We have a modified experience for viewers using ad blockers

Wikia is not accessible if you've made further modifications. Remove the custom ad blocker rule(s) and the page will load as expected.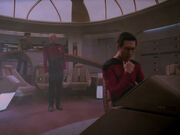 Nitrogen oxide (frequently abbreviated NOx) refers to one or more gaseous nitrogen-oxygen compounds that are toxic to many species, including Humans, when concentrated in sufficient quantities.
In 2366, nanites that had infected the computer core of the USS Enterprise-D released nitrogen oxide onto the bridge of that starship in retaliation for Paul Stubbs' use of gamma radiation to destroy several of the nanites. (TNG: "Evolution")
See also
Edit
External link
Edit