Ad blocker interference detected!
Wikia is a free-to-use site that makes money from advertising. We have a modified experience for viewers using ad blockers

Wikia is not accessible if you've made further modifications. Remove the custom ad blocker rule(s) and the page will load as expected.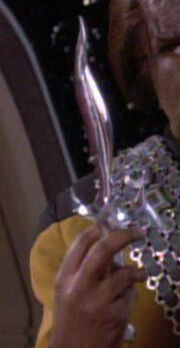 The nisroh was a bladed weapon used by Tilonian merchants in the traditional bartering ceremony. In the ceremony, the merchant ceremonially wielded the nisroh and was judged on his proficiency with the blade.
Before his undercover assignment on Tilonus IV in 2369, Commander William T. Riker was briefed on the use of a nisroh by Worf, who accidentally cut him on the forehead. The wound became a focal point of the delusions manufactured by Riker's mind when he was resisting interrogation by the Tilonians. When first abducted, Riker used the nisroh given to him by Worf to fend off his attackers. He succeeded in deflecting one of them, but was then injected by some sort of drug and rendered unconscious. (TNG: "Frame of Mind")