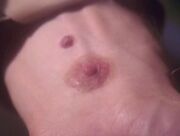 A nipple is a structure from which a fluid emanates. In biological terms, it is the section of the body through which nourishment is transferred from parent to infant.
In 2151, Commander Tucker was accidentally impregnated by a female Xyrillian without his knowledge. The first indication of the pregnancy was the appearance of a growth on his wrist. This growth turned out to be a nipple. (ENT: "Unexpected")
See also
Edit
External link
Edit
Ad blocker interference detected!
Wikia is a free-to-use site that makes money from advertising. We have a modified experience for viewers using ad blockers

Wikia is not accessible if you've made further modifications. Remove the custom ad blocker rule(s) and the page will load as expected.