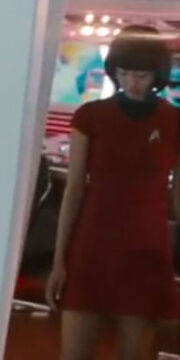 Ningning Deng is an actress who played a member of USS Enterprise's bridge crew in the 2013 film Star Trek Into Darkness. Her prior movie roles include a hotel clerk in 2012's The Guilt Trip. On television, she made six appearances in the comedy sci-fi series The Neighbors as an alien woman. She also played a model in the 2011 made-for-TV movie 12 Wishes of Christmas.
External link
Edit
Ad blocker interference detected!
Wikia is a free-to-use site that makes money from advertising. We have a modified experience for viewers using ad blockers

Wikia is not accessible if you've made further modifications. Remove the custom ad blocker rule(s) and the page will load as expected.