The following were all inhabitants of Nimbus III in 2287. (Star Trek V: The Final Frontier)
Named
Unnamed
The following names were taken from the names these individuals were given in the production screen tests.
"Ape Face"
Bar patron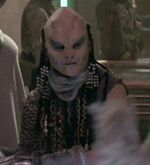 Bartender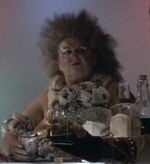 "Bone Head"
Cat Woman
This cat woman worked as an exotic dancer in the bar in Paradise City on Nimbus III. She had feline facial traits, a tail, and three mammaries. She produced catlike sounds such as meowing and screeching. When James T. Kirk entered the bar in his attempt to rescue Sybok's hostages, the feline dancer attacked him by aggressively jumping at him. Kirk eventually defeated her by throwing her into a water pool table, rendering her either unconscious or perhaps even dead. (Star Trek V: The Final Frontier)
"Dark Eyes"
"Leather Face"
"Long Face"
"Lost Soul"
Pitchman
The Pitchman was an individual on Nimbus III, who was seen on a computer console in the bar on Nimbus III. It seems he made an advertisement for visitors, to enjoy Nimbus III. (Star Trek V: The Final Frontier)
"Round Eyes"
"Wrinkles"
Background information
In her book Captain's Log: William Shatner's Personal Account of the Making of Star Trek V: The Final Frontier, writer Lisabeth Shatner frequently refers to the inhabitants of Nimbus III as "Nimbosians".