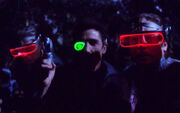 Night vision is the name given to any piece of technology that permits someone to see in the absence of visible light.
In 2152, Captain Jonathan Archer led a landing party, consisting of Subcommander T'Pol, Lieutenant Malcolm Reed and Ensign Hoshi Sato, down to a rogue planet. Because there was no sun to illuminate it, the planet was eternally dark, forcing the Enterprise NX-01 crewmembers to use night vision.
The Eska also possessed night vision technology, which they used when hunting the Dakalan Wraiths on the planet. (ENT: "Rogue Planet")
This is the only appearance of night vision technology in any
Star Trek
series.
External link