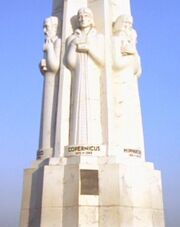 Nicolaus Copernicus (19 February 1473-1543), was an Earth astronomer, who by the 20th century was recognized as "the father of modern astronomy". He was born in the town of Toruń, Poland.
He was one of six Human astronomers honored with a monument located in front of the Griffith Observatory, the others being Hipparchus, Galileo Galilei, Johannes Kepler, Isaac Newton and William Herschel.
The statue furthermore featured a plaque commemorating the 500th Anniversary of the "father of modern astronomy". (VOY: "Future's End")
External link
Edit
Ad blocker interference detected!
Wikia is a free-to-use site that makes money from advertising. We have a modified experience for viewers using ad blockers

Wikia is not accessible if you've made further modifications. Remove the custom ad blocker rule(s) and the page will load as expected.