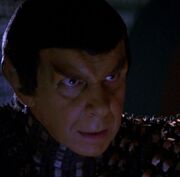 Nicholas Kepros (born 8 November 1932; age 84) is the actor who played the Romulan General Movar in the Star Trek: The Next Generation episodes "Redemption" and "Redemption II" in 1991. He filmed his scenes for "Redemption" on Thursday 18 April 1991 on Paramount Stage 16 and for "Redemption II" on Thursday 11 July 1991 and Monday 15 July 1991 on Paramount Stage 16.
He has appeared in a handful of films, most notably the 1984 Academy Award-winning drama, Amadeus, starring Star Trek: Insurrection actor F. Murray Abraham. Other films and made-for-television movies he has appeared in include 1984's Grace Quigley (with Sherman Howard), 1986's Apology (with Peter Weller and John Glover), 1987's The Sicilian (with Andreas Katsulas), 1994's Quiz Show (with Christopher McDonald), and 1996's The Associate (starring Whoopi Goldberg and Bebe Neuwirth).
He also had a role in the 1986 television mini-series George Washington II: The Forging of a Nation, as did Daniel Davis. Kepros guest starred in Spenser: For Hire with Avery Brooks.
External link
Edit
Ad blocker interference detected!
Wikia is a free-to-use site that makes money from advertising. We have a modified experience for viewers using ad blockers

Wikia is not accessible if you've made further modifications. Remove the custom ad blocker rule(s) and the page will load as expected.