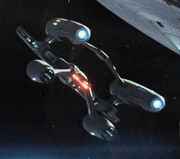 The Newton-type was a type of starship used by Starfleet in the mid-23rd century in the alternate reality.
A typical ship of this type had two active outboard nacelles placed above the centerline and two secondary hulls below. The secondary hulls were connected by swept pylons that connected to to the back of the primary hull when the impulse drive was located. The upper nacelles connected to the primary hull at the rear port and starboard quadrants and were connected together with a "rollbar" similar to the one on the Template:ShipClass in the prime reality. This type participated in the pivotal Battle of Vulcan in 2258, one of which was the USS Newton. (Star Trek)
The Gizmotron models 1/2500 scale model kit names this ship type as the Federation strike cruiser.
[1]