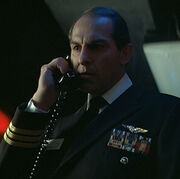 Newell Tarrant (born 30 October 1942; age 75), birth name Yancey Newell Tarrant, is a retired Navy flight officer who played Commander Rogerson, the command duty officer of the USS Enterprise in Star Trek IV: The Voyage Home. He is the son of theatrical director L. Newell Tarrant (1911-2000).
A graduate of the Naval War College and TOPGUN, Tarrant fought over two hundred combat missions in the Vietnam War. He concluded his twenty-year naval career - which included postings on both the Enterprise and the USS Ranger (where scenes aboard the "Enterprise" were actually filmed) - as the commanding officer of the Chargers of VF-161, a carrier-based fighter squadron operating from the decks of the USS Midway. Currently residing in Goodyear, Arizona, he has become an author, with his first novel, Shadow War, published in 2002, and his second novel, Dissolution published in 2004. [1]
Of all the Star Trek personalities with military service, Tarrant is the only one with service in the Vietnam War. During this period, Tarrant was a Navy fighter RIO and was awarded the Distinguished Flying Cross as well as multiple Air Medals. (Source: Navy Personnel Command)
External link
Edit
Ad blocker interference detected!
Wikia is a free-to-use site that makes money from advertising. We have a modified experience for viewers using ad blockers

Wikia is not accessible if you've made further modifications. Remove the custom ad blocker rule(s) and the page will load as expected.