The New Orleans-class frigate was a Federation starship class that was in service during the mid-24th century. (TNG: "Conspiracy")
The vessel shares several design elements with the Galaxy-class. At least one ship of this class, the USS Kyushu, was present at the Battle of Wolf 359 in 2367. (TNG: "The Best of Both Worlds, Part II")
Ships of the class
Edit
Named
Uncertain
Appendices
Edit
Background information
Edit
The name of this class was never spoken on screen, but was derived from the Starship mission status Okudagram that first appeared early in TNG Season 4. It is from the information on this status chart that USS Thomas Paine, previously been identified in "Conspiracy" as a "frigate," is clarified as being a member of this class. This information would later be presented in the Star Trek Encyclopedia (3rd ed., pp. 406, 423-424, 475) which would add the starships Renegade and Rutledge as members of this class. However, because the relationship of those two ships with this class has not (yet) been confirmed on screen, it is therefore classified here as "uncertain."
According to the Star Trek Encyclopedia (3rd ed., p. 323), the class "was named for the ship we called the City of New Orleans."
Studio model
Edit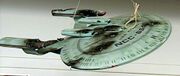 The New Orleans studio model was built by Ed Miarecki and appeared as wreckage in the graveyard scene in "The Best of Both Worlds, Part II".[1]
According to the Star Trek Encyclopedia (3rd ed., p 255), "the studio model of the Kyushu was never built as a full photographic miniature, but was used in the "graveyard" scene of the aftermath of the battle of Wolf 359." The model was kit bashed from parts of AMT/Ertl USS Enterprise-D model kit No. 6618, embellished with several custom additions (such as two text markers as nacelles on top of the saucer) to create the appearance of a ship much smaller than the Galaxy.
As Michael Okuda elaborated,
"New Orleans-class U.S.S. Kyushu. Again, a scaled-down Galaxy saucer (meaning it was made from an Enterprise kit, but with a larger bridge and larger windows, intended to imply a smaller ship). Two nacelles on pylons above the center axis of the ship. I think this was my favorite of the Miarecki study models. At Dan Curry's suggestion, I added two or three "outboard pods" to the ship in an effort to make it look a little less Enterprise-like. The photos in the Encyclopedia are all photos of the study model, retouched to add lights in the windows. I took the photos just before starting the battle damage work." [2]
External links
Edit
Ad blocker interference detected!
Wikia is a free-to-use site that makes money from advertising. We have a modified experience for viewers using ad blockers

Wikia is not accessible if you've made further modifications. Remove the custom ad blocker rule(s) and the page will load as expected.