Ad blocker interference detected!
Wikia is a free-to-use site that makes money from advertising. We have a modified experience for viewers using ad blockers

Wikia is not accessible if you've made further modifications. Remove the custom ad blocker rule(s) and the page will load as expected.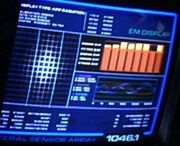 Neutrons are electrically-neutral hadrons composed of two down quarks and one up quark. Atomic nuclei consist of protons and neutrons held together by gluons. They have an antiparticle with the same mass but opposite baryon number, the antineutron.
Because of their properties (mass, magnetic moment, etc.), neutrons can be applied for microscopy. In 2152, the Enterprise NX-01 had a neutron microscope aboard. (ENT: "Stigma")
Neutrons could also be used as a form of energy. The Xindi-Reptilian Damron utilized a bio-reactor with a neutronic power source when attempting to manufacture a bioweapon with which to destroy Humanity. (ENT: "Carpenter Street")
In 2265, Captain James T. Kirk left orders recommending that the surface of Delta Vega be subjected to a lethal amount of neutron radiation if he did not contact the Enterprise in twelve hours, should he be unsuccessful in stopping his old friend Gary Mitchell, who had developed dangerous and god-like psychokinetic abilities. (TOS: "Where No Man Has Gone Before")
Starships tended to emit quantities of neutron radiation as a property of their warp cores, detectable by any other starships close enough to scan for it. In 2293, Captain Spock noted a large concentration of neutron radiation that resulted from a Klingon Bird-of-Prey commanded by General Chang moving into position at extremely close quarters to the hull of Spock's ship, the USS Enterprise-A. (Star Trek VI: The Undiscovered Country)
External link
Edit