Ad blocker interference detected!
Wikia is a free-to-use site that makes money from advertising. We have a modified experience for viewers using ad blockers

Wikia is not accessible if you've made further modifications. Remove the custom ad blocker rule(s) and the page will load as expected.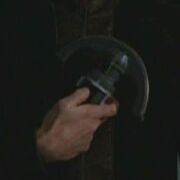 A neurolytic emitter was a medical device utilized by Ramuran tracers to erase the memories of those captured after attempting to leave their homeworld of Ramura. The emitters were used to eliminate all their experiences with the outside world, thus easing their reintegration into Ramuran society. The effects of the emitter were irreversible.
Curneth used a neurolytic emitter on Kellin after she attempted to seek asylum on the USS Voyager in 2374. Afterward, she could not fathom that she wanted to leave Ramura in the first place. (VOY: "Unforgettable")