Ad blocker interference detected!
Wikia is a free-to-use site that makes money from advertising. We have a modified experience for viewers using ad blockers

Wikia is not accessible if you've made further modifications. Remove the custom ad blocker rule(s) and the page will load as expected.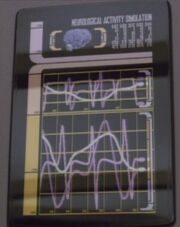 A neurological behavior program is a computer program that can imitate the reactions of a Human brain, thereby making the study of a potentially dangerous device possible without hooking it up to a real brain and putting somebody in danger.
A sensor PADD is used to connect the program to any device that is to be examined. Information sent to the sensor PADD can then be processed by a nearby computer. A simulation of a Human brain is then fed as the input and the reactions in the neural pathways and the different parts of the brain can be examined. In order to examine long-term effects, the processor can be sped up as well, something which would not be possible in a Human brain.
In 2368, Wesley Crusher and Robin Lefler used the program to analyze the effects of the Ktarian game and detected its addictive and manipulative qualities. (TNG: "The Game")