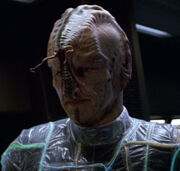 Neil Maffin (born 17 January 1959; age 58) is the actor who portrayed Ven in the Star Trek: Voyager episode "Infinite Regress".
He also had a recognizable role in the feature film The 13th Warrior, and starred in the award-winning independent films Moment in Time and Pants on Fire. Maffin has also had guest roles on television, including Law & Order: Special Victims Unit, Andromeda, Dead Like Me, and Stargate: Atlantis.
External link
Edit
Ad blocker interference detected!
Wikia is a free-to-use site that makes money from advertising. We have a modified experience for viewers using ad blockers

Wikia is not accessible if you've made further modifications. Remove the custom ad blocker rule(s) and the page will load as expected.