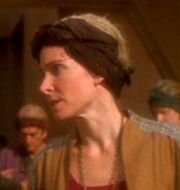 Nancy Kaine is the actress who portrayed Sanric in the Star Trek: Voyager third season episode "Remember". She was credited as "Woman" in the end credits of the episode.
Kaine had supporting roles in the drama Stand Alone (1985, with Bert Remsen and Annie O'Donnell) and the horror comedy Repossessed (1990, with Willie Garson, Barbara Alyn Woods, Norman Large, and Ian Abercrombie), and portrayed Kathy Manning in the NYPD Blue episode Double Abandando (1994, with Gordon Clapp and John Rubinstein).
External link
Edit
Ad blocker interference detected!
Wikia is a free-to-use site that makes money from advertising. We have a modified experience for viewers using ad blockers

Wikia is not accessible if you've made further modifications. Remove the custom ad blocker rule(s) and the page will load as expected.