Ad blocker interference detected!
Wikia is a free-to-use site that makes money from advertising. We have a modified experience for viewers using ad blockers

Wikia is not accessible if you've made further modifications. Remove the custom ad blocker rule(s) and the page will load as expected.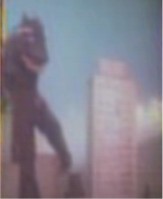 This unnamed mutant lizard movie was a 20th century Earth movie about a mutated lizard that wreaked havoc on a large city.
Portions of this movie appeared on the videoscreen that was being monitored by Kes and Neelix after USS Voyager was inadvertantly transported back to Earth circa 1996. (VOY: "Future's End")