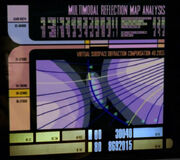 Multimodal reflection sorting was a scanning technique.
In 2367, Data used multimodal reflection sorting to detect a complex series of subspace signals between Locutus and the Borg cube. He eventually exploited these signals to penetrate the Borg command network. (TNG: "The Best of Both Worlds, Part II")
The
Star Trek Encyclopedia
 (4th ed., vol. 2, p. 59) defined "multimodal reflection sorting" as, "
An advanced technique used to process subspace sensor data.
"
Ad blocker interference detected!
Wikia is a free-to-use site that makes money from advertising. We have a modified experience for viewers using ad blockers

Wikia is not accessible if you've made further modifications. Remove the custom ad blocker rule(s) and the page will load as expected.