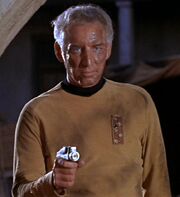 Thomas Morgan Woodward (born 16 September 1925; age 90) broke into television and movies in the same year, 1956. He worked steadily until his retirement in the late 1990s, with parts in dozens of movies and several television series, and well over a hundred television guest appearances.
He may be best known for his recurring role as Punk Anderson on Dallas, a show that also featured Trek guest stars Mitchell Ryan, William Windom, John Anderson, Kathryn Leigh Scott, Mary Crosby, Tracy Scoggins, Joshua Harris, Joseph Campanella, Michele Scarabelli, Allan Miller, and Conroy Gedeon, among others.
Woodward also played Boss Godfrey, "The Man with No Eyes", in the iconic 1967 film Cool Hand Luke. He also appeared in John Cassavetes' acclaimed 1976 film, The Killing of a Chinese Bookie, which also featured Seymour Cassel and Robert Phillips.
He made two Star Trek appearances, both in the original series, in episodes directed by Vincent McEveety, both as phaser-wielding characters with severe mental problems.
Appearances
External link