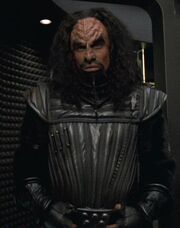 Morak was a Klingon who served under Kohlar in their quest to find the kuvah'magh of the Klingon species. The ship he was on was a generational ship and had been in space for many years.
He sided with T'Greth and helped him to take over USS Voyager. After Captain Janeway regained control of Voyager, Morak joined the rest of the Klingons when they settled on a planet in the Delta Quadrant. (VOY: "Prophecy")
Ad blocker interference detected!
Wikia is a free-to-use site that makes money from advertising. We have a modified experience for viewers using ad blockers

Wikia is not accessible if you've made further modifications. Remove the custom ad blocker rule(s) and the page will load as expected.