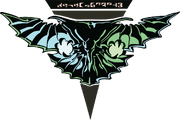 Monte Thrasher is a designer and illustrator based in Los Angeles, California, who designed the Romulan Star Empire insignia as well as the Romulan script for Star Trek: The Next Generation. It first appeared in the first season episode "The Neutral Zone" and more specific in later episodes including fifth season's "Unification I" and "Unification II" and sixth season's "Face of the Enemy".
Michael Okuda mentioned Thrasher's work in the TNG Season 5 DVD special feature "Alien Speak" in an interview from 4 April 2002.
External links
Edit
Ad blocker interference detected!
Wikia is a free-to-use site that makes money from advertising. We have a modified experience for viewers using ad blockers

Wikia is not accessible if you've made further modifications. Remove the custom ad blocker rule(s) and the page will load as expected.