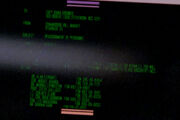 Monica Livingston was a Human Starfleet officer of the mid-24th century.
She served aboard the USS Robert Louis Stevenson as a doctor before being reassigned to the USS Discovery on stardate 410044.2. Her serial number was FSN 092-54-4401. (TNG: "Conspiracy")
The character was never mentioned in dialog; her name came from a mission order.