Deletion
Deletion has been suggested for this page according to the deletion policy. In the normal day-to-day operations of Memory Alpha, some pages are deleted for various reasons. This deletion suggestion and reasoning can be discussed on: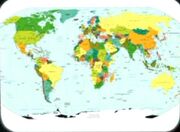 Mongolia was a country in the eastern Asian continent on Earth. Its capital was Ulaanbaatar.
A 21st century-era political map of Earth was stored in the USS Enterprise's library computer in 2254. The location of Mongolia was labeled on this map. This map was among the materials viewed by the Talosians when they scanned the Enterprise computer. (TOS-R: "The Cage")
The map used in the remastered "

The Cage

" was a Central Intelligence Agency map published in September 2008. The ice shelfs of Antarctica were masked with black ink. Ulaanbaatar was labeled on the map; its location was represented by a black star. [1]
Retroactive continuity
: A
20th century
-era map of the North
Pacific Ocean
region, depicting the east coast of
Asia
and
Alaska
on the west coast of
North America
, was stored in the
USS Enterprise
's
library computer
in
2254
. This map was among the materials viewed by the
Talosians
when they scanned the Enterprise
computer. (

TOS-R

: "

The Cage

")
External link
Edit