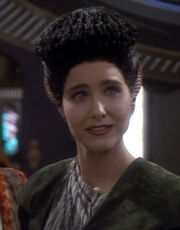 Molly Hagan (born 3 August 1961; age 54) played Eris in the Star Trek: Deep Space Nine episode "The Jem'Hadar". She played the first Vorta seen on Star Trek.
She starred in the short-lived series The Nutt House, which also featured Gregory Itzin.
She appeared in the early 1990s sitcom Herman's Head, a show that also starred The Simpsons voice actors Hank Azaria and Yeardley Smith. She also guest-starred in three episodes of Becker, which featured Terry Farrell. In 1994 she guest-starred in the Columbo mystery movie Butterfly in Shades of Grey, which co-starred William Shatner.
External links