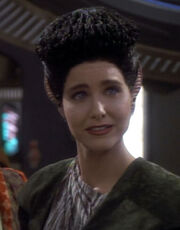 Molly Hagan (born 3 August 1961; age 54) played Eris in the Star Trek: Deep Space Nine episode "The Jem'Hadar". She played the first Vorta seen on Star Trek.
Hagan appeared in the early 1990s sitcom Herman's Head, a show that also starred The Simpsons voice actors Hank Azaria and Yeardley Smith. She also starred in the short-lived series The Nutt House, which also featured Gregory Itzin. Hagan also guest-starred in three episodes of Becker, which featured Terry Farrell. In 1994 she guest-starred in the Columbo mystery movie Butterfly in Shades of Grey, which co-starred William Shatner. Hagan also guest starred in Seinfeld (with Jason Alexander), Friends, The Golden Girls, The Larry Sanders Show, Six Feet Under, Eli Stone, Grey's Anatomy, Bones, Desperate Housewives, Perception, The Mentalist, Masters of Sex and Longmire.
Hagan's motion picture credits included Some Kind of Wonderful, Fresh Horses and Election.
External links
Edit