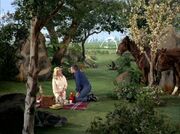 Mojave was a town in California on the North American continent on Earth. Fifty miles of parkland encircled this town. In the early 23rd century, this was the birthplace of Starfleet officer Christopher Pike, who became captain of the starship USS Enterprise. When living in Mojave and owning a pair of horses, Pike rode his two horses – Tango and Mary Lou – into the groves with a picnic lunch every day. (TOS: "The Cage")
Appendices
Edit
Background information
Edit
In the scripts for initial pilot "The Cage", the parkland near Mojave was described thus; "The locale is beautifully planted, rich park and forest land." Mojave itself was also detailed in "the far horizon where we can see a distant skyline of towering buildings with beautifully delicate architecture."
The parkland in "The Cage" was filmed on Stage 16 of Desilu's Culver City lot. [1] A detailed background painting of a futuristic cityscape in a desert oasis was created by Albert Whitlock for the parkland scene of "The Cage".
Mojave was a somewhat prophetic choice for the home of space pioneer Pike, since, in 2004, some forty years after "The Cage" was written, Mojave became the USA's first inland spaceport, and the first to be cleared for horizontal spacecraft takeoff and launch.
External links
Edit