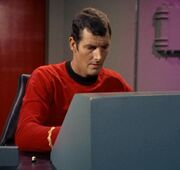 Mike Howden was the actor who played Lieutenant Rowe in the Star Trek episode "I, Mudd". He also appeared as a Romulan Guard in "The Enterprise Incident".
Howeden filmed his scene for "I, Mudd" on Monday 14 August 1967, and his scene for "The Enterprise Incident" on Monday 24 June 1968, both at Desilu Stage 9.
He had a Northeastern accent, which resulted in him asking Captain Kirk if "he had clearance to be in this arear" aboard the Romulan ship.
External link
Edit
Ad blocker interference detected!
Wikia is a free-to-use site that makes money from advertising. We have a modified experience for viewers using ad blockers

Wikia is not accessible if you've made further modifications. Remove the custom ad blocker rule(s) and the page will load as expected.