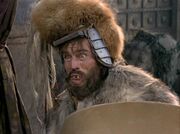 Michael "Mike" Dugan (26 September 1912 – 6 November 2002; age 90) was an actor and stuntman who played a Kalar warrior in the original Star Trek: The Original Series pilot episode, "The Cage". He filmed his scenes on Monday 14 December 1964 and Tuesday 15 December 1964 at the "Arab Village" part of the 40 Acres backlot. Footage of this appearance was also used in the episode "The Menagerie, Part II".
Dugan passed away on November 6, 2002 at age of 90, in Palm Desert, California, USA.
External link
Edit
Ad blocker interference detected!
Wikia is a free-to-use site that makes money from advertising. We have a modified experience for viewers using ad blockers

Wikia is not accessible if you've made further modifications. Remove the custom ad blocker rule(s) and the page will load as expected.