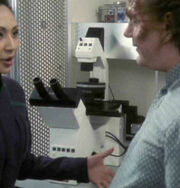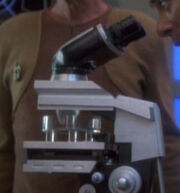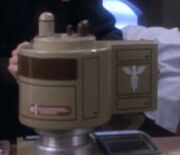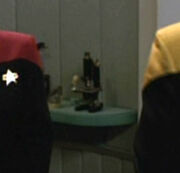 A microscope was a scientific instrument designed to allow the viewing of things too small to be seen by normal Human vision. It used a system of lenses and mirrors to magnify an object many times more than it actually was.
The apothecary Riaan, an Akaali, used a microscope in her pharmacy when Jonathan Archer and T'Pol, disguised as Akaali, visited her. (ENT: "Civilization")
Doctor Phlox usually used a microscope on board Enterprise NX-01. (ENT: "Silent Enemy", "The Catwalk", "Regeneration", et al.)
When sickbay first appears in

ENT

: "

Demons

", a microscope in the room was scripted to be in use by Phlox when Archer, T'Pol, Tucker and Reed arrived. Although a microscope is shown in the final version of that scene, it is not used by Phlox.
The Arctic Archaeology Team scientists used a microscope where they found nanoprobes. (ENT: "Regeneration")
Dr. Arik Soong used a microscope in a lab aboard Malik's Bird-of-Prey in 2154. (ENT: "The Augments")
The Klingon scientist Antaak used a microscope during his examinations. At one point in 2154, Phlox used Antaak's microscope to see Augment DNA was present in a particular Klingon virus. (ENT: "Affliction")
Doctor Noonian Soong had a microscope in his laboratories on Omicron Theta. The away team of the USS Enterprise-D visited the left rooms in the colony in 2364. (TNG: "Datalore")
Doctor Katherine Pulaski kept a microscope in her office aboard the Enterprise-D when she signed on her duty. (TNG: "The Child")
The Darwin Genetic Research Station on Gagarin IV, headed by Doctor Sara Kingsley, used microscopes in their investigations. (TNG: "Unnatural Selection")
The science labs aboard Galaxy-class starships had microscopes. Wesley Crusher used one during his experiments with nanites. (TNG: "Evolution")
Marla Aster kept an old microscope in her house on Earth. (TNG: "The Bonding")
The medical laboratory aboard the Enterprise-D was equipped with a microscope. (TNG: "True Q")
In 2370, Lieutenant Commander Data created a microscope using multiple lenses when he was stranded on Barkon IV, a planet with a pre-warp civilization, to research the radiation sickness that was spreading among the villagers. (TNG: "Thine Own Self")
Doctor Julian Bashir used a microscope in the infirmary on Deep Space 9 in 2369 when he examined the DNA probes he collected aboard the Bajoran transport ship. (DS9: "A Man Alone")
Lieutenant Jadzia Dax used a microscope which was combined with a probe analyzer and a computer display to search the probe she took from under Rao Vantika's fingernails. She found a microscopic generator Vantika used to transfer his consciousness into another person shortly before he died. (DS9: "The Passenger")
Doctor Julian Bashir used a microscope to identify the shapeshifting locket Odo received from the Rakhari Croden. (DS9: "Vortex")
Captain Kathryn Janeway kept a six-hundred-year-old microscope among the decoration of her ready room on board the USS Voyager. Her grandfather gave it to her when she was a child. (VOY: "Counterpoint")
Exactly the same prop was later seen in Phlox's quarters aboard
Enterprise
in the episode "

The Breach

".
See also
Edit
Background information
Edit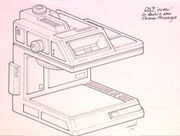 Senior illustrator Rick Sternbach made a sketch for an electronic microscope for use by Doctor Bashir in the Star Trek: Deep Space Nine episode "Vortex". The prop was not built but Sternbach showed the sketch in the DS9 Season 1 DVD special feature "Deep Space Nine Sketchbook".
External link
Edit