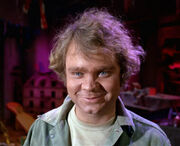 Michael John Pollack, Jr. (born 30 May 1939; age 78), better known as Michael J. Pollard and also affectionately referred to as "Spud Pollard", is the actor who played Jahn in the Star Trek: The Original Series episode "Miri". He was originally considered for the role of Charles Evans in "Charlie X". [1]
Pollard has been acting since 1958. A character actor, he has accumulated almost a hundred appearances in movies and television series since then. He was 27 at the time he portrayed Jahn, a teenage character, but his baby-faced looks won him the role.
In 1967, Pollard earned an Academy Award nomination as Best Actor in a Supporting Role for his role of C.W. Moss in the film Bonnie and Clyde. He also earned two Golden Globe nominations for that role, one for Best Supporting Actor and one for Most Promising Newcomer. In addition, his performance in Bonnie and Clyde won Pollard a BAFTA Award as Most Promising Newcomer to Leading Film Roles.
Also in 1967 he and Angelique Pettyjohn appeared together in an episode of The Girl from U.N.C.L.E. ("The U.N.C.L.E. Samurai Affair").
Filmography
Edit
The Russians are Coming, The Russians are Coming (1966, with Brian Keith, Andrea Dromm, Theodore Bikel, and Don Keefer)
Lost in Space episode "The Magic Mirror" (1966)
Roxanne (1987, with Steve Martin)
Scrooged (1988, with Alfre Woodard and John Glover)
Tango & Cash (1989, with Marc Alaimo, Roy Brocksmith, Teri Hatcher, Clint Howard, Glenn Morshower, and Phil Rubenstein)
Superboy episodes titled "Meet Mr. Mxyzptlk" and "Mr. and Mrs. Superboy" (1989, with Sherman Howard)
Split Second (1992, with Kim Cattrall)
The Odyssey (1997 TV movie, with Vanessa Williams)
Merchants of Venus (aka A Dirty Little Business) (1998, with Robert Easton, Charles Dierkop, and Helen Cates)
House of 1,000 Corpses (2003, with Sid Haig)
External links
Edit
Ad blocker interference detected!
Wikia is a free-to-use site that makes money from advertising. We have a modified experience for viewers using ad blockers

Wikia is not accessible if you've made further modifications. Remove the custom ad blocker rule(s) and the page will load as expected.