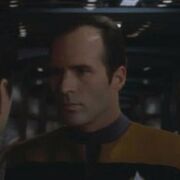 Michael Rose is the actor who played Niles in the Star Trek: Deep Space Nine episodes "The Maquis, Part I" and "The Maquis, Part II".
He has appeared in many other popular television series such as NYPD Blue, CSI: Miami, The West Wing, Mad Men, Castle, Nashville and House of Lies. His motion picture credits include Need for Speed, Ride Along 2, The Hard Truth and Wild Side.
External link
Edit
Ad blocker interference detected!
Wikia is a free-to-use site that makes money from advertising. We have a modified experience for viewers using ad blockers

Wikia is not accessible if you've made further modifications. Remove the custom ad blocker rule(s) and the page will load as expected.