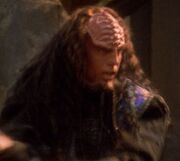 Michael Danek is an actor who played the Klingon Kahless actor in the Star Trek: The Next Generation seventh season episode "Firstborn" in 1994. He was credited as "Singer" in the end credits of the episode.
Danek also made guest appearances in the television series Wings (1994, with Steven Weber and Marjean Holden), Women of the House (1995, with Teri Garr, William Newman, and Jonathan Banks), and Law & Order: Special Victims Unit (2003, with Leland Orser).
External link
Edit
Ad blocker interference detected!
Wikia is a free-to-use site that makes money from advertising. We have a modified experience for viewers using ad blockers

Wikia is not accessible if you've made further modifications. Remove the custom ad blocker rule(s) and the page will load as expected.