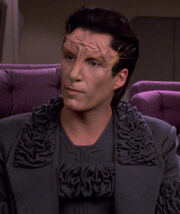 Michael Corbett (born 20 June 1956; age 61) is the actor who played Doctor Rabal in the Star Trek: The Next Generation seventh season episode "Force of Nature" in 1993. His costume was later sold off at the It's A Wrap! sale and auction on eBay. [1]
He appeared in the soap opera Ryan's Hope, along with Kate Mulgrew and Daniel Hugh Kelly and guest starred on Renegade (with James Darren), Beyond Belief: Fact or Fiction (with Jonathan Frakes), and Extreme Ghostbusters (with Rene Auberjonois). He had a featured part in the 1996 film Romeo + Juliet, with Paul Sorvino.
External links
Edit
Ad blocker interference detected!
Wikia is a free-to-use site that makes money from advertising. We have a modified experience for viewers using ad blockers

Wikia is not accessible if you've made further modifications. Remove the custom ad blocker rule(s) and the page will load as expected.