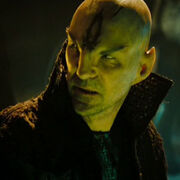 Michael Berry, Jr. is an actor who played the Romulan tactical officer in 2009's Star Trek.
He made his film debut playing Twigg, a member of Captain Barbosa's crew of pirates, in the 2003 blockbuster Pirates of the Caribbean: The Curse of the Black Pearl. Fellow Star Trek alum Lee Arenberg also played a member of Barbosa's crew.
Berry first worked with Star Trek director and producer J.J. Abrams in 2003, when he was cast in the third season premiere of Abrams' spy series Alias. Abrams then cast Berry as Michelle Monaghan's character's kidnapper in the 2006 film Mission: Impossible III. Other Star Trek performers who appeared in this film include Ellen Bry, Jeff Chase, Bruce French, Greg Grunberg (who also appeared on Alias), Tony Guma, Tracy Middendorf, and Simon Pegg.
In 2007, Berry appeared on the CBS series The Unit along with Abby Brammell. He also had a role in the 2008 independent film Wednesday Again, along with Jack Kehler and Barbara Tarbuck.
Berry voices Daniel the Bull in the upcoming feature film adaptation of Maurice Sendak's Where the Wild Things Are. He also has a role in the upcoming independent film Family of Four (with Josh Clark and Nicolas Coster) and the thriller 13.
External link