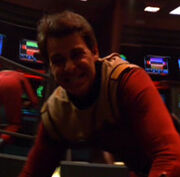 Merritt Yohnka (born 1958) is a stuntman, stunt actor, and stunt coordinator who performed stunts as an Enterprise-B crewman in Star Trek Generations. More recently in 2013, Yohnka worked as stunt double for Bruce Greenwood on Star Trek Into Darkness.
In 2008, Yohnka received an Emmy Award nomination for the stunt coordination of the Chuck episode "Chuck Versus the Imported Hard Salami" (2007).
External links
Edit
Ad blocker interference detected!
Wikia is a free-to-use site that makes money from advertising. We have a modified experience for viewers using ad blockers

Wikia is not accessible if you've made further modifications. Remove the custom ad blocker rule(s) and the page will load as expected.