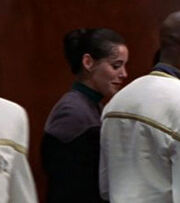 Meredith Murphy is the actress who portrayed a Trill science officer in Star Trek: Insurrection. She received no credit for this part and was identified by her pair of boots which were sold off on the It's A Wrap! sale and auction on eBay. [1]
Under the name Meredith Murphy Metz she worked as assistant to the executive producers on the television thrillers Grave Secrets: The Legacy of Hilltop Drive (1992, with Trek performers James Lashly, Rick Fitts, Kimberly Cullum, and David Soul) and Exclusive (1992, with Ed Begley, Jr., Michael Nouri, and Lily Mariye). In 1998 she appeared as a trailer chick in the drama Falling Sky.
The following years she worked as stand-in on the comedy Jawbreaker (1999) and together with Vanessa Grayson as stand-in for Andie MacDowell on the comedy The Muse (1999, with Catherine MacNeal, Concetta Tomei, and Dakin Matthews). In addition, she worked as assistant to the late actress Brittany Murphy on the comedy Uptown Girls (2003).
External link
Edit
Ad blocker interference detected!
Wikia is a free-to-use site that makes money from advertising. We have a modified experience for viewers using ad blockers

Wikia is not accessible if you've made further modifications. Remove the custom ad blocker rule(s) and the page will load as expected.