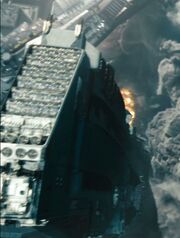 Menom was a name featured on an early render of a San Francisco building that appeared in Star Trek Into Darkness. By the final version of the movie, the name could no longer be discerned on the building, appearing to have been taken off the model.
The Menom building would appear to take the place of the current United States Customhouse. However, bereaved customs agents can take solace in that it appears that the intruding building would most likely not have survived the crash of the USS Vengeance.
The building model with the name on it could be seen in the feature Behind the Magic: Building the Future for "Star Trek Into Darkness", which was made available on YouTube by Industrial Light & Magic. [1]
Ad blocker interference detected!
Wikia is a free-to-use site that makes money from advertising. We have a modified experience for viewers using ad blockers

Wikia is not accessible if you've made further modifications. Remove the custom ad blocker rule(s) and the page will load as expected.