Memory Alpha:Featured article reviews
Discuss

91
Reconfirmations without objections
Ezri Dax, formerly Ezri Tigan, was a joined Trill, the ninth host of the Dax symbiont and served as counselor aboard Deep Space 9, beginning in 2375. After the previous host of the Dax symbiont, Jadzia Dax, had died, the Dax symbiont was rushed to Trill on the starship USS Destiny. On the Destiny the symbiont's status deteriorated and Ezri, as the only unjoined Trill on the ship, had to undergo the procedure of joining.
Following the joining, Ezri returned to Trill with the Destiny, and met with members of the Symbiosis Commission's Evaluation Board, who gave her counseling on how to deal with her new memories, but they were unable to help her further. With her friends and family having difficulty adjusting to her changed personality, and her own confusions about who she really was, Ezri took a leave of absence. She traveled to Earth and met a friend of the two previous hosts, Benjamin Sisko. Together with him, she uncovered the Orb of the Emissary, and restored the Prophets to the Celestial Temple.
She then took a commission on Deep Space 9 as counselor and remained there for the rest of the Dominion War.
---
Featured way back in 2004, I think this FA has held up, and been updated, pretty well, and is still one of the best article we have. - Archduk3 05:22, March 21, 2012 (UTC)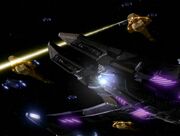 The Second Battle of Deep Space 9 was the opening battle of the Dominion War, in which the combined forces of the Dominion and the Cardassian Union, led by Gul Dukat, launched an assault on the Federation-held starbase Deep Space 9. Although the station was captured by the Dominion, the battle was a strategic victory for the Federation because they successfully mined the Bajoran wormhole, preventing the Dominion from sending reinforcements to join the battle from the Gamma Quadrant. Also, the commitment of forces necessary to attack the station enabled a joint Federation-Klingon task force to destroy vital Dominion shipyards.
Following their annexation of the Cardassian Union around stardate 50560, the Dominion began fortifying their foothold in the Alpha Quadrant with weekly convoys of warships and troops through the wormhole. As time went on, Cardassian space became a veritable fortress, teeming with Jem'Hadar soldiers and their Vorta overseers.
Although a technical state of war did not exist, and neither side had fully committed to immediate combat, numerous skirmishes took place along the border during this period. Aside from the Dominion's attempt to destroy the Bajoran system using a trilithium bomb, the Jem'Hadar and the Cardassians attacked and destroyed numerous Federation and Klingon patrol ships in a sustained campaign across the border sectors. Casualties of these attacks included the USS Tian An Men and the IKS B'Moth.
---
Nominated en mass in 2004 with the rest of the other five Dominion War battles at the time. This article would require a blurb if reconfirmed, and I have no opinion either as of yet on if it should. - Archduk3 05:29, March 21, 2012 (UTC)
Reconfirmations with objections
Early reconfirmations