This is a page to discuss the suggestion to delete "Template:PicOfTheDay/11 September".
If you are suggesting a page for deletion, add your initial rationale to the section "Deletion rationale".
If you want to discuss this suggestion, add comments to the section "Discussion".
If a consensus has been reached, an admin will explain the final decision in the section "Admin resolution".
In all cases, please make sure to read and understand the deletion policy before editing this page.
Deletion rationale
Edit
In this instance the day is being featured and not the image. There is no real Trek connection to 9/11, the image's connection is even weaker. This is not a place for this kind of memorial, maybe because it is too serious for a Trek fan website. Anyway, this is supposed to be fun, and Trek in general is supposed to be hopeful. Furthermore, the PotD is supposed to be about featuring interesting images. It's cool to fit the image into a related day, but as I mentioned on Template:PicOfTheDay, the day connection should be the least important consideration. The weakest argument I have, but I'll mention it anyway, is that when I first looked at it, I thought it was lame, not serious. The exact opposite reaction one could assume the person was going for. --Bp 01:44, 20 March 2007 (UTC)
Discussion
Edit
i agree. it's a nice sentiment, but a little cheesy and the reminder for us to "remember" is mostly useless. the date speaks for itself, one of our more beautiful pictures might be more appropriate. delete Deevolution 01:52, 20 March 2007 (UTC)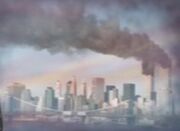 There is a mild Trek connection, an image seen in the timestream in "

Storm Front, Part II

", but I agree that this is far too weak a link, and that this has become something about the day, not the image. I would not suggest using our 9/11 image for that day either, as it is not a very good quality image. Delete. --OuroborosCobra

talk

01:54, 20 March 2007 (UTC)
I definitely don't want to see that ---------------------->>
Admin resolution
Edit
Deleted for now, since no one can think of something appropriate.--Tim Thomason 04:35, 29 March 2007 (UTC)
Ad blocker interference detected!
Wikia is a free-to-use site that makes money from advertising. We have a modified experience for viewers using ad blockers

Wikia is not accessible if you've made further modifications. Remove the custom ad blocker rule(s) and the page will load as expected.