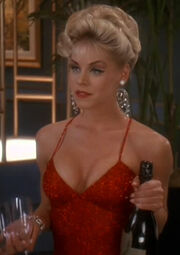 Melissa Young (born 29 May 1967; age 50) played Caprice in the Star Trek: Deep Space Nine episode "Our Man Bashir".
She has guest-starred in other popular series such as Growing Pains and Beverly Hills, 90210. She also appeared as one of the hopeful brides in contention to wed Rick Rockwell in the reality TV show Who Wants to Marry a Multi-Millionaire?.
External link
Edit
Ad blocker interference detected!
Wikia is a free-to-use site that makes money from advertising. We have a modified experience for viewers using ad blockers

Wikia is not accessible if you've made further modifications. Remove the custom ad blocker rule(s) and the page will load as expected.