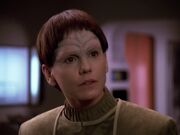 Melinda Culea (born 5 May 1955; age 62) is the actress who portrayed Soren in the Star Trek: The Next Generation fifth season episode "The Outcast" in 1992. She filmed her scenes between Monday 6 January 1992 and Tuesday 14 January 1992 on Paramount Stage 8, 9, and 16.
Culea had recurring roles on The A-Team (with Dwight Schultz) and Knots Landing (with Michelle Phillips), and made guest appearances on several television series including Family Ties and St. Elsewhere. In 1999 she guest starred in an episode of The X-Files, executive produced by John Shiban, along with Andrew Robinson.
External links
Edit
Ad blocker interference detected!
Wikia is a free-to-use site that makes money from advertising. We have a modified experience for viewers using ad blockers

Wikia is not accessible if you've made further modifications. Remove the custom ad blocker rule(s) and the page will load as expected.