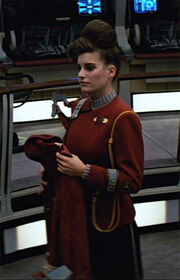 Melanie Shatner (born 1 August 1964; age 53) is an actress who appeared as the captain's yeoman in Star Trek V: The Final Frontier. Melanie is the youngest daughter of William Shatner and younger sister to Lisabeth and Leslie Shatner.
She also appeared in an episode of Tek War which was written by (along with Lisabeth), directed by, and starring her father.
Together the letters from the names of the three sisters were used to make up the name Mr. Lemli, as well as Shatner's Lemli Productions Inc..
The Star Trek Encyclopedia incorrectly lists Melanie as the "girl in the black lace dress" in

TOS

: "

Miri

", however, that girl is actually not one of Shatner's daughters.
In 1988, she appeared in an Oldsmobile commercial, mentioning her father driving a starship. The commercial ends with William Shatner beaming inside the car to join his daughter.
External links
Edit
Ad blocker interference detected!
Wikia is a free-to-use site that makes money from advertising. We have a modified experience for viewers using ad blockers

Wikia is not accessible if you've made further modifications. Remove the custom ad blocker rule(s) and the page will load as expected.