Mego Toys (pronounced MEE-go) was a prime producer of licensed action figures in the 1970s and early 1980s. Besides producing the first Star Trek action figures and figures for Star Trek: The Motion Picture, Mego was also responsible for the infamous World's Greatest Super Heroes (WGSH) line of DC and Marvel Hero figures, as well as figures for Space: 1999, Planet of the Apes and many other genre projects.
The company began to produce standard dolls and other toys in 1954. Beginning in 1971, they began created the first 8" action figure, called Action Jackson to compete with Hasbro's well-established G.I. Joe line. Mego began production of the WGSH figures in 1972. By 1975, they started the line of Star Trek action figures and toys and starships, which continued until 1978.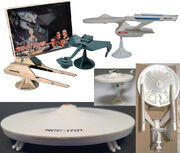 In 1980, they produced Star Trek: The Motion Picture figures, starships, and toys. However, due to declining sales and the failure of their bid to license and produce Star Wars toys, Mego declared bankruptcy in 1982 and had closed their doors by 1983.
In 2007, EMCE Toys began to release faithful reproductions of many of Mego's 8-inch figures and has supplemented the line with several new additions. EMCE Toys' "Star Trek Retro Cloth Figures" are distributed by Diamond Select Toys.
See also
External link