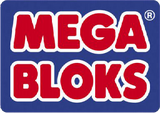 Mega Bloks, Inc. is a Canadian toy manufacturer which specializes in the production of construction toys similar to LEGO and Kre-O products and is headquartered in Montréal, Québec.
Its parent company, Mega Brands, Inc., was acquired by toy giant Mattel in 2014.[1]
Star Trek releasesEdit
In 2004, the company's Star Trek licensing agreement resulted in the production and release of one starship construction set.
Mega Bloks acquired new licensing in 2015 and seven building sets and additional figurines were released to retail in 2016.

Starship kit
Edit
The assembled starship measures 36 × 27 × 10 cm.
Starship kits
Edit
Playset kits
Edit
Kubros figure kits
Edit
See also
Edit
External links
Edit