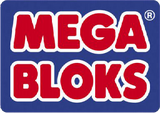 Mega Bloks, Inc. is a Canadian toy manufacturer which specializes in the production of construction toys similar to LEGO and Kre-O products and is headquartered in Montréal, Québec. Its parent company, Mega Brands, Inc., was acquired by toy giant Mattel in 2014.[1]
Association with Star TrekEdit
In 2004, the company's Star Trek licensing agreement resulted in the production and release of one starship construction set.
In 2015, Mega Bloks announced new licensing and displayed promotional images of three upcoming sets. They are slated for release late in the following year.[2]
2004 release
Edit
This starship model came with a build-up showcase stand and included a Captain Picard mini-figure with its own display base and type 2 phaser. The assembed ship measured 14.25 inches (36.1 cm) in length by 10.5 inches (26.6 cm) in width by 3.75 inches (9.5 cm) in height and was built from 945 pieces.
2016 releases
Edit
Six construction sets were previewed in 2015 and early 2016 are slated for release in the autumn of 2016. Twelve mini-figures were also previewed at conventions.[3]
See also
Edit
External links
Edit