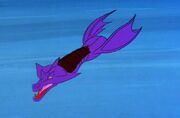 A mechanical sentinel was a semi-autonomous machine that was used to guard some important person or property.
Tchar guarded the Soul of the Skorr with mechanical sentinels. (TAS: "The Jihad")
The mechanical sentinel, Swooper, and the Maravel dragon like creature all used slightly modified versions of the same set of animations.